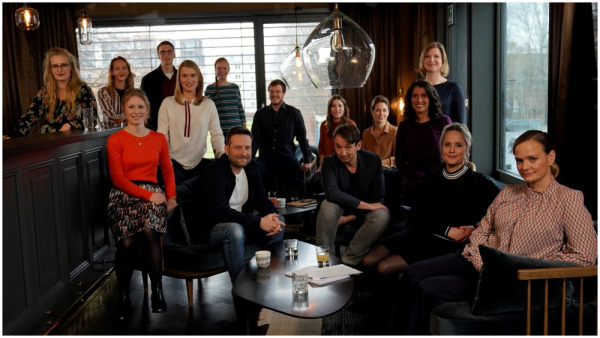 Endemol Shine announces latest productions for German scripted label MadeFor Film
Global content creator, producer and distributor Endemol Shine Group today announces a new scripted production from MadeFor film.
26/06/2020
Teacher on Withdrawal is a new short form web comedy series for ZDFneo, the younger skewing channel for ZDF. Filming for the series about a young teacher attempting to teach from a digital classroom has begun with Christine Eixenberger (Marie Catches Fire) in the lead role. Teacher on Withdrawal will also be available on the ZDF media library. The series will be directed by Sinnan Akkus and the writer is Tobias Oelle.
MadeFor Film have a number of other series in production including long-running series  Tatort, which follows investigators Lessing (Christian Ulmen) and Dorn (Nora Tschirner), along with Frau Jordan Stellt Gleich for Joyn and Marie Catches Fire for ZDF.
Nanni Erben, Joint CEO at MadeFor Film says; "The sentiment of this web series captures the amusing moments of the digital classroom which will resonate with ZDFneo's audiences. With additional series in production we are optimistic about delivering a slate of drama and we are thrilled to be up and running with new scripted productions in Germany."
Based in Berlin, MadeFor Films launched earlier this year and is led by producer Nanni Erben along with Gunnar Juncken as Joint CEOs.
The label is part of Endemol Shine Group's unrivalled group of scripted producers which are led by Lars Blomgren. Last year 69 non-English language scripted titles from Endemol Shine Group aired, compared with 50 in 2018. The company's other existing diverse and award-winning EMEA labels from the Nordics (Filmlance, Rubicon), Netherlands (NL Flms), France (ES Fiction), Iberia (Diagonal) and scripted teams in Finland, Israel, Italy, Poland, Russia and India.
Recent and forthcoming non-English language scripted series across Endemol Shine Group include Sweden's Caliphate (SVT) , Tsumami (SVT) and Bear Town (HBO Europe), Norway's Beforeigners (HBO Europe) The Idhun Memories (Netflix) from Spain; Valley of Tears (IPBC), Fifty (YES) and Queens (Hot) in Israel, Aarya (Disney Hot Star) in India and Floor Rules, the Emmy Kids winner from NL Film, the Dutch production company behind Penoza.