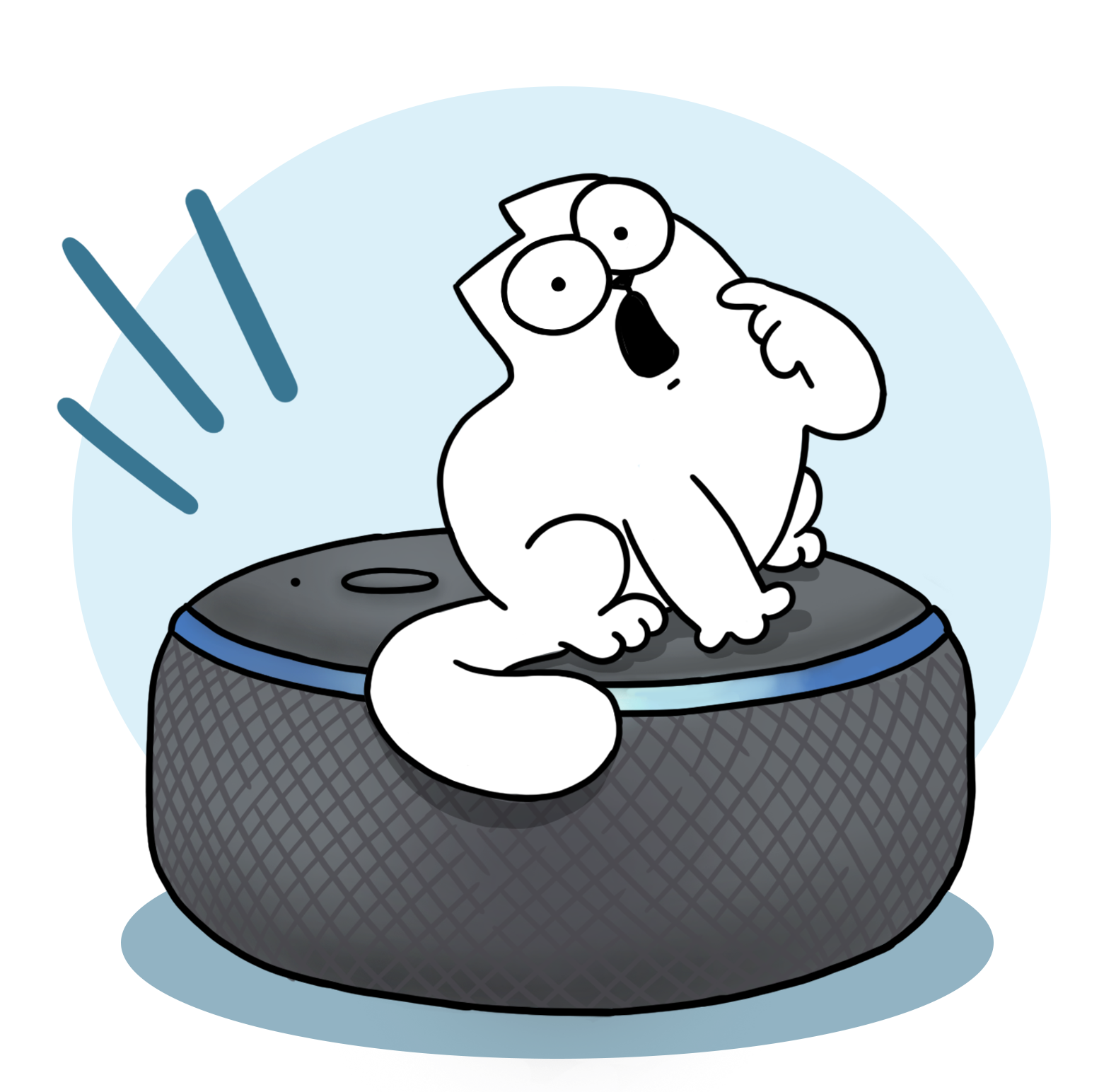 Endemol Shine Group adds Simon's Cat and Big Brother skills to voice games portfolio
18/05/2020
Endemol Shine Group today announced that new titles from Big Brother and Simon's Cat will be added to their growing voice skills portfolio.
Coming soon to Amazon Alexa, the Big Brother and Simon's Cat skills are the latest additions join the already popular voice skills from the Endemol Shine portfolio. The existing skills already available include Pointless, Tenable, Deal or No Deal and £100k Drop, all developed with leading voice design studio Vocala, who are also exploring further titles and expansions into new markets in partnership with Endemol Shine Group.
The Big Brother game, which has been developed with voice user interface experts SoapVox, invites players to compete against virtual housemates, trying to score as many points as possible by playing Big Brother themed mini games and top the global leader board to prove that they are the world's biggest Big Brother fan.
Developed in partnership with leading voice solutions specialists Voice Interactive, Simon's Cat game allows users to adopt and play with their very own Simon's Cat, keeping him from mischief by interacting with him regularly.  Users will unlock many mini-games to play by progressing through the different levels while keeping their pet happy. If games are not your thing you can still talk to Simon's Cat where you can listen to hundreds of never-before-heard sounds for the delight of everybody.
Anil Mistry, Director of Gaming & E-Commerce at Endemol Shine Group, said, ""Endemol Shine are now partnering with a number of highly regarded voice developers across lots of our key IP's globally. Many of the Skills have been pushing the boundaries of what can be achieved on voice platforms, and all have created fun and highly engaging products. It's great to see new successful extensions of our IPs in this growing vertical and we are working hard to bring more of our household brands into this space".
Stuart Pocklington, Founder and Managing Director at SoapVox added, "We are so excited for the launch of the Big Brother voice game. As we are developing the game it's bringing back all the buzz and nostalgia, we know from watching the series. Working with Endemol Shine for the first time is a real pleasure for us, the voice skills that have come from Endemol Shine IP's so far are amazing and Big Brother will certainly add to the exciting voice games that have been released."
Maria Noel Reyes, Managing Director at Voice Interactive commented, "We are incredibly honoured to be working with Endemol Shine to bring the beloved Simon's Cat to life on Alexa. The character lends itself perfectly to the smart assistant environment and we can't wait for the many fans around the world adopt their very own Simon's Cat."
Ruth Oakley, Creative Director at Vocala, who are behind the Deal or No Deal, Pointless, Tenable and £100k Drop titles, added, "The IP games we have developed with Endemol Shine are interactive, featuring music, audio and personalised responses from the assistant, which can immerse you in the gameshow environment. For families they provide an easy way to connect and have fun, to make memories and bond. Being able to create joy, laughter and positive experiences is more important now than ever."
Last year marked twenty years since Big Brother first aired in the Netherlands.  Since then, 480 series have aired across 62 markets, producing an over 28k episodes.  7,153 housemates from around the globe have spent over 35,000 days in the house, with over 5,000 live evictions.  The format continues to deliver hit primetime ratings in long-running markets such as the US, Canada, Brazil, Italy, Spain and Israel, and continues to evolve, with high profile returns confirmed for 2019 and 2020 in Poland, Finland, Sweden, Germany, Portugal, Greece and Australia.
Hit animated series Simon's Cat features the hilarious antics of a mischievous white cat and his long-suffering owner Simon. Created by award-winning illustrator, animator and director Simon Tofield, the series was first seen on YouTube in 2008, and is now a worldwide phenomenon, entertaining audiences in over 100 countries. The Simon's Cat brand enjoys success across multiple categories including gaming, publishing and apparel. Nearly 2 million Simon's Cat books have been sold, and there are more than 80 million digital sticker downloads. The brand has 6.5 million fans on Facebook, 2 million followers on Instagram, and more than 1 billion views on YouTube.