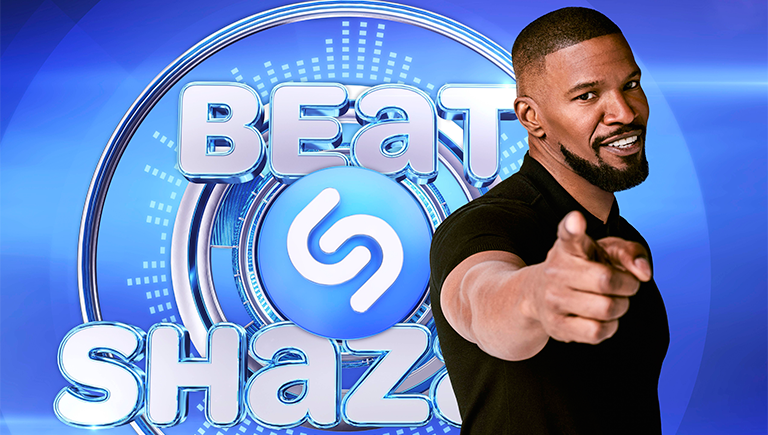 Endemol Shine Group has Exclusive Distribution Rights for FOX's Interactive Music Game Show, BEAT SHAZAM, Hosted and Executive Produced by Jamie Foxx
13/10/2017
Global production company Endemol Shine Group has international distribution rights for hit U.S.  interactive game show
Endemol Shine Group to produce local versions of the format, as well as distribute the FOX series, both outside of the U.S.
Hosted and executive produced by Grammy, Golden Globe and Academy Award winning actor and musician Jamie Foxx  ("Ray,"  "Django Unchained"), BEAT SHAZAM has been picked up for a second season on FOX
Endemol Shine Group will highlight the format at MIPCOM 2017 with an exclusive buyer's breakfast on Tuesday 17th October
Global content creator, producer and distributor Endemol Shine Group today announced they have exclusive international distribution rights to bring FOX's interactive music game show, BEAT SHAZAM, to the worldwide market. Endemol Shine Group will be the exclusive distributor of the format across all platforms outside of the U.S. and will produce local versions of the show in same. Endemol Shine International will also distribute the FOX series, also outside the U.S.
Hosted and executive produced by Grammy, Golden Globe and Academy Award winning actor and musician Jamie Foxx ("Ray," "Django Unchained"), and executive produced by Mark Burnett ("Survivor," "The Voice") and Jeff Apploff ("Don't Forget the Lyrics!"), BEAT SHAZAM launched on FOX in May, and was the No. 1 new music series of the summer in the U.S. The series has just been renewed for a second season on FOX.
The format will be among Endemol Shine Group's highlights for MIPCOM and the global production company will be hosting an exclusive breakfast for buyers on Tuesday 17th October in Cannes.
Lisa Perrin, CEO of Creative Networks at Endemol Shine Group, says: "BEAT SHAZAM had a brilliant launch on FOX this summer and the show's unique mix of music, quizzing and a big cash prize has broad audience appeal. This format can be easily adapted and scaled for broadcasters in any market and by leveraging our global footprint, we are in a unique position to roll the show out worldwide."
BEAT SHAZAM pits teams of two against the clock and each other as they attempt to identify the biggest hit songs of all time. In the end, the team with the most money banked will outlast the competition and go against Shazam, the world's most popular song identification app, for the chance to win a cash prize.
BEAT SHAZAM was created by Jeff Apploff and Wes Kauble and is produced by Apploff Entertainment and MGM Television in association with Shazam. Jeff Apploff, Mark Burnett, Jamie Foxx, Barry Poznick, Rich Riley and Lauren Zalaznick serve as executive producers.