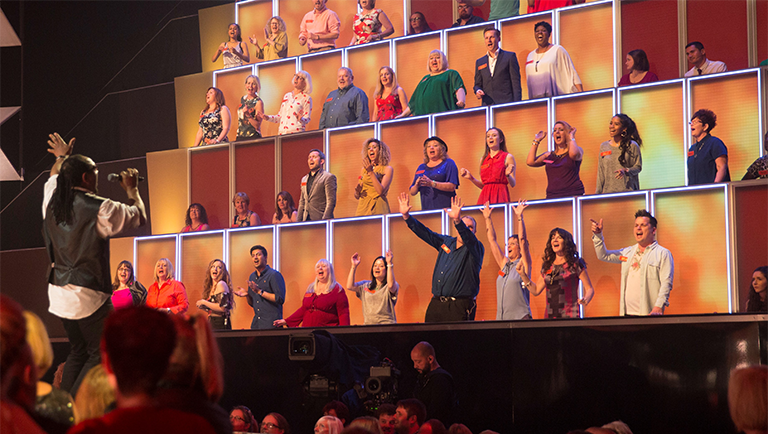 Endemol Shine Group Unveils Line Up of New Entertainment Formats for MIPCOM 2017
05/10/2017
Global producer and distributor Endemol Shine Group today announces the line-up of new formats heading to Cannes next month for MIPCOM 2017.
From Endemol Shine UK is a brand new Saturday night entertainment show, All Together Now. Each episode sees a range of talented performers take to the stage to perform in front of The 100, an audience of great singers with big voices and even bigger opinions. If any of the 100 like what they hear, they can stand up and join in. The greater the number that sing along, the higher the contestant's score. Featuring familiar faces from the world of music as part of The 100, the series kicks off with five hour-long heat episodes. At the end of the show, the two highest scoring performers progress to the Grand Final for one final performance. The six-part performance competition will broadcast first in the UK on BBC One.  Endemol Shine Group will be holding an invitation only All Together Now event on Tuesday 17th October in Cannes.
Lisa Perrin, Endemol Shine Group's CEO of Creative Networks says; "All Together Now really captures the current feel-good trend that's happening in entertainment television right now. Our ambition is to have broadcasters around the world get in on the act with this upbeat, joyous show which launch in the UK on BBC One next year."
Also making its debut at Cannes this year from Endemol Shine UK is brand new Armchair Detectives. The programme, which combines a murder mystery drama with a gameshow, will transport three players and viewers at home to the fictional town of Mortcliff where a dastardly crime has been committed. Their task – to discover whodunnit? It's a play along and immersive investigation that can be enjoyed every step of the way. Like any good quiz, crime is crammed with titillating reveals, but as the drama unfolds, more suspects and clues come to light. Players and viewers need to identify the killer. This series has also been created for initial broadcast on BBC One in the UK.
Family Food Fight is another new addition to the Endemol Shine Group line up this year, a competitive cookery series from Endemol Shine Australia. Diverse, multi-generational families go head-to-head in high pressure cooking challenges to win the experience of a life time and the coveted title of the 'Greatest Food Family'. Big characters, bold recipes and beautiful food, Family Food Fight is a fresh, exciting and relatable take on food. The series will broadcast on the Nine Network in Australia.
Returning to MIPCOM this year is the international breakout showThe Wall. An original US format from SpringHill Entertainment, Glassman Media and Universal Television Alternative Studio, The Wall has since sold to ten countries and counting, including France, Germany and Spain, receiving stellar ratings in each territory.
The Wall is a tense, heart-stopping quiz which requires both the right answers and the right bounces in order to win a life-changing cash prize. A combination of quiz, luck and strategy set against the background of a highly dramatic and interactive set piece, a pair of teammates must work together to tackle the mammoth wall. Emotions run high as green and red balls fall down The Wall, determining monumental gains and heartbreaking losses.
The Wall is a SpringHill Entertainment and Glassman Media production with LeBron James, Maverick Carter, Chris Hardwick, and Andrew Glassman serving as executive producers. The Wall was developed by Glassman Media in conjunction with CORE Media.
Lisa Perrin adds; "We have a brilliant line-up of new heading to MIPCOM this year. Whether it's joining in with All Together Now, cracking a whodunnit with Armchair Detectives, cheering on teammates on The Wall or watching families come together to cook in Family Food Fight, these formats all tap into the current trend for warm and inspirational programming with wide audience appeal."
At MIPCOM 2017 Endemol Shine Group will exhibit in the Riviera Hall (R8.E1/E15)