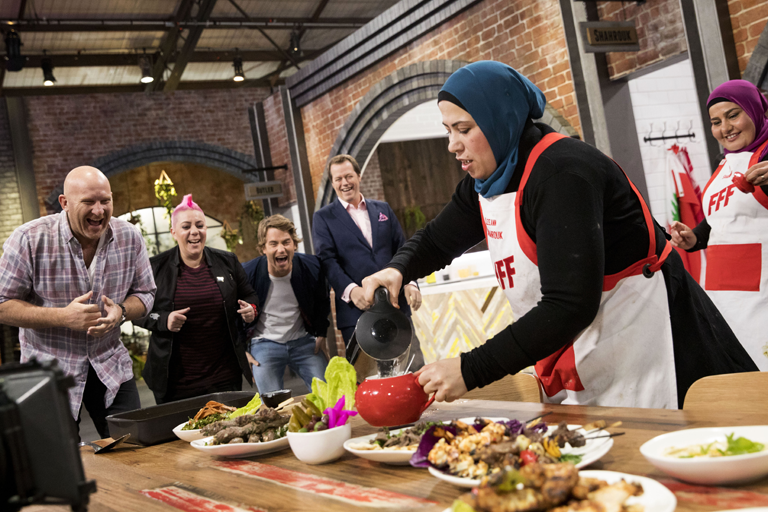 Endemol Shine Group's Family Food Fight cooks up two more international deals
09/09/2019
• Culinary competition format now sold to nine markets with deals in Italy and Brazil signed
• The format will be among Endemol Shine's highlights at MIPCOM 2019 in Cannes
Global content creator, producer and distributors Endemol Shine Group today announces that Family Food Fight has now sold to nine markets, following first series deals in Italy and Brazil.
Endemol Shine Italy have been commissioned by Sky Italia to produce a six-part prime time run of the culinary hit which sees families take homestyle cooking to a new level as their recipes, rich in tradition and shared over generations, are put on display.
Meanwhile, Brazilian broadcaster SBT and Amazon Prime Video will display a 10 part series from Endemol Shine Brazil – produced in partnership with Abrava Produções. Production is underway for both Italy and Brazil and the series set to launch in October (Brazil).
Family Food Fight has now sold to nine markets, with recent launches in the US, Mexico and Switzerland. Created by Endemol Shine Australia, Family Food Fight is an original format developed with Channel Nine, where it was quickly signed up for a second series last year. The series has also aired in Portugal, Argentina and Denmark.
Family Food Fight will be among Endemol Shine Group's highlights at MIPCOM 2019.
Lisa Perrin, CEO of Creative Networks at Endemol Shine Group says;
"Factual entertainment formats are garnering strong interest from broadcasters around the world and with the universal appeal for cookery competition shows, it's no surprise that Family Food Fight has sold to nine markets. I'm thrilled Leonardo and Juliana's teams in Italy and Brazil have landed these deals as we begin our MIPCOM preparations where the show will be highlighted."
Leonardo Pasquinelli, CEO of Endemol Shine Italy adds;
"Family Food Fight is perfect for the Italian audience – it is packed with entertainment, family rivalry and of course delicious home cooking. It's fantastic to further build Endemol Shine Italy's reputation for producing excellent food programming and I'm confident that Family Food Fight will attract great ratings with a broad audience."
Juliana Algañaraz, Managing Director of Endemol Shine Brazil adds;
"We've been watching with interest the international success of Family Food Fight and I'm delighted to be the latest country to roll the show out. This format is a great example of popular factual entertainment and I firmly believe audiences in Brazil will love the concept."
Endemol Shine Italy are behind a slate of non-scripted and scripted hits for all major broadcasters. Recent successes include Big Brother, which just wrapped on Canale 5 its 19thseason (including the three seasons of Celebrity Big Brother), MasterChef for Sky Uno which drew in, at its eight season, an average of 1,8 million viewers every week. All Together Now which has been ordered for a second run on Canale 5. Scripted productions include While I Was Away, with excellent ratings, drawing in 5,3 million viewers and a 23% share for Rai1 for the finale episode.
Endemol Shine Brazil produces successful local versions of hit formats such as MasterChef, All Together Now, and The Wall. The company are also behind a range of bran-funded series including Best.Cover.Ever where they partnered with local music festival VillaMix and drinks company Ambev to launch a Brazilian version of the US show and CabeloPantene, o reality, a multiplatform reality show which searches for Pantene's Brazilian brand ambassador and was recently adapted in Portugal for the same brand.