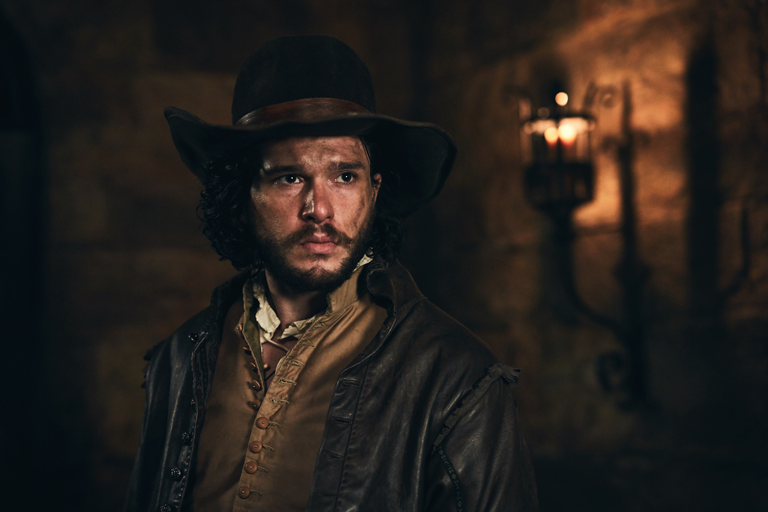 Endemol Shine International signs raft of new deals for Kudos miniseries Gunpowder
21/02/2018
Endemol Shine International today announced they have signed deals which will see visceral drama Gunpowder starring Kit Harington and Liv Tyler air across multiple new territories.
Produced by Kudos, part of Endemol Shine Group in association with Thriker Films and commissioned by BBC One, the three-part drama has sold to Australia (BBC Worldwide), Africa, South Africa, Middle East, Benelux (BBC Worldwide), Israel (DBS Satellite), New Zealand (LightBox), German speaking Europe (RTL), Italian speaking Europe (Discovery) and Japan (Tohokushinsha Film Corporation).
In addition, Endemol Shine International has struck home entertainment deals in the UK with Dazzler Entertainment, in Germany with Justbridge Entertainment and in Australia and New Zealand with Beyond Home Entertainment.
The 17th century thriller has previously sold to HBO in North America where Gunpower drew in an average of nearly two million viewers for each episode and HBO Europe which saw the series air in the Nordics, Central and Eastern Europe and Spain.
Starring Kit Harington ('Game of Thrones'), Peter Mullan ('Top of the Lake'), Mark Gatiss ('Sherlock') and Liv Tyler ('Lord of the Rings'), Gunpowder is written by Ronan Bennett ('Top Boy', 'Hidden') and is directed by J Blakeson ('The Disappearance of Alice Creed').
The gripping miniseries launched on BBC One in October last year where I increased its audience by an average of 82% in the 28 days following TX – the highest uplift for any BBC One Drama series last year. Gunpowder was particularly successful on BBC iPlayer, where it received over 6.5 million requests across the series.
Cathy Payne, CEO of Endemol Shine International says; "There has been a huge amount of international interest in Gunpowder and we are thrilled with the response from broadcasters and viewers alike. With a renowned cast and brilliant script, this Kudos production was always going to be popular and we are extremely pleased of the deals for the show."
Gunpowder is a fast-paced miniseries from Ronan Bennett, Kit Harington and Daniel West.
Every year on November 5 the English mark the discovery of the Gunpowder Plot in London in 1605 with bonfires and fireworks. It is often called Guy Fawkes Day because many people believe – erroneously – that the plot was devised by Guy Fawkes. However, while Fawkes played a pivotal role, the man who dreamed up the plot and was its driving force was Robert Catesby (Harington), a 30-year old Warwickshire gentleman. Gunpowder delves into the history behind the plot evolution, the selection of the team to carry it out, the gathering of the resources, and the obstacles they came up against.
Also starring is Edward Holcroft ('Kingsman'), Shaun Dooley ('Broadchurch'), Tom Cullen ('''Downton Abbey'), Robert Emms ('''Happy Valley), Derek Riddell ('The Missing'), Sian Webber ('EastEnders'), David Bamber ('Tina and Bobby') and Kevin Eldon ('The Halcyon').
The programme was commissioned by Charlotte Moore, Director of Content, and Piers Wenger, Controller Drama Commissioning, for BBC One. Executive Producers are Ollie Madden for Kudos and Matthew Read for the BBC, and Ronan Bennett. Kit Harington and Daniel West are Co-Executive Producers for Thriker Films with Laurie Borg producing.
Endemol Shine International hold global distribution rights.