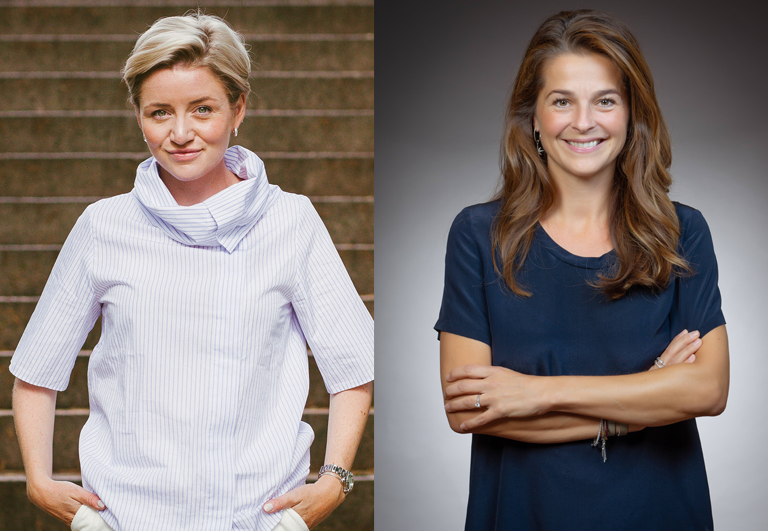 Endemol Shine Nordics announces new management at Meter Television AB and Rubicon TV
05/09/2019
• Madelene Hansson to replace Björn Persson as Managing Director of Meter Television in Sweden
• Christina Parker to join as Managing Director of Norwegian label Rubicon TV
Endemol Shine Nordics is pleased to announce two senior management changes at its Swedish label Meter Television and Norwegian label Rubicon TV. Both appointments complement senior management changes at Endemol Shine Finland and Metronome in Denmark earlier this year, further reinforcing the Endemol Shine Nordics leadership team as it continues to capture growth opportunities in the region's dynamic content space.
Madelene Hansson will step up from Deputy Managing Director of Meter Television to Managing Director on 1st October, replacing Björn Persson who has decided to leave Endemol Shine. Björn has been leading Meter Television since 2013 and will stay on for the coming weeks to ensure a smooth handover until Madelene starts.
The company also announced today that Christina Parker will be joining Rubicon as Managing Director, effective 1st December 2019. Christina is joining from branded entertainment company Splay One, where she held the position of Country Manager for Norway since June 2018, bringing a wealth of experience in the vibrant and fast paced digital media industry.
Karin Stjärne, CEO of Endemol Shine Nordics says:
"I'm very pleased that Madelene has accepted to take over the reins from Björn at Meter; she has been a core pillar of our Swedish management team and it was a natural and very well-deserved succession. Demand for local content in local language in Sweden is growing across all platforms, including AVOD and SVOD, and with the support of Madelene, we'll be focused on delivering high end productions to address this growth. We will miss Björn dearly and wish him all the best in his next endeavours. I'm also delighted to welcome Christina to our team in the new year, heading up Rubicon. She's a dynamic leader with a proven track record of delivering growth and innovation. Her skills and experience are hugely complementary to the existing team and I know everyone is very excited to be working closely with her as we take Rubicon TV through its next stage of development and growth. The appointment of Christina and Madelene marks a step change in our growth strategy in the region. Both Sweden and Norway are highly dynamic markets, from which a lot of ideas and content originates and travels internationally, and I look forward to working with both them, as well as the rest of Nordic management team as we continue to lead through and innovate in this very exciting market."
Madelene Hansson, incoming MD of Meter, said:
"I'm very thankful to Björn for his expert guidance over the years we've worked together and I am proud to be taking over from him as we continue to grow our business in Sweden amid a changing media landscape. Times could not be more exciting in our industry and I look forward to working closely with Karin and the Meter team on this next phase."
Björn Persson added:
"I'm proud of what we have achieved these past 7 years as MD of Meter and I feel like now is the right moment to hand over the reins and look to new opportunities. While I'm of course sad to be leaving, I know I leave Meter in very capable hands with Madelene at the helm and wish her and the entire team all the best on this next adventure."
Christina Parker, incoming MD of Rubicon TV, said:
"I'm very excited to be joining Rubicon next year, with it's amazing local productions, as well as it's world-class international catalogue. Having been a fan of many of the shows over the last few years myself, I'm more than ready to start working together with Karin and the talented Rubicon TV team to strategically develop the business further and lead the company through the digital transformation that we see in the industry today."
Endemol Shine Nordics is one of the largest TV production groups in the Nordic region with 7 production labels across Denmark, Finland, Sweden and Norway. Endemol Shine Nordics creates and produces some of the most innovative, popular and commercially successful programs screened by all the major Nordic broadcasters.
Every year the companies in the group create and produce more than one hundred productions and more than seven hundred hours of television including some of the world's biggest formats such as MasterChef, Biggest Loser, Big Brother, All Together Now, Family Food Fight, Pointless, as well as numerous locally developed formats such as Luxury Trap, Minute to Win It, Police Chase, The Kesslers, Saturday Night tube. Endemol Shine Nordics is also behind a range of internationally recognised scripted hits including Bron/ Broen, Lilyhammer, The Councilman and Lovleg, as well as the highly anticipated dramas Beforeigners and Beartown, both for HBO Europe.