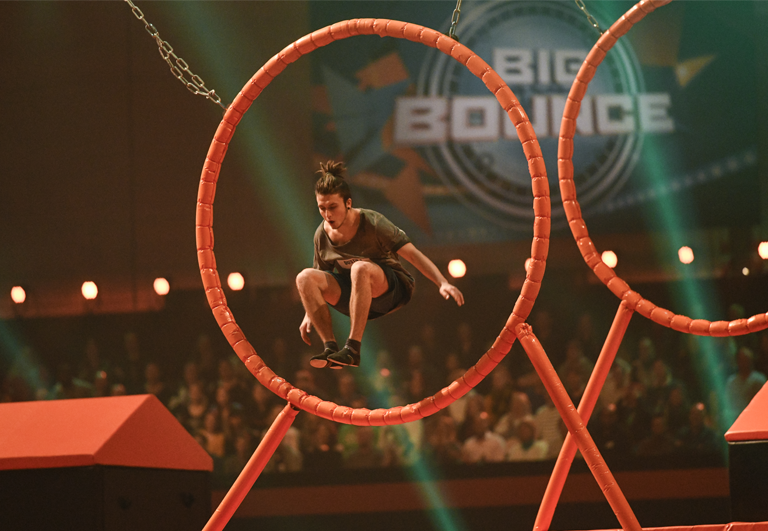 France jumps upon Big Bounce Battle in first international deal for format
11/07/2018
Global content creator, producer and distributor Endemol Shine Group today announced that Endemol Shine France have been commissioned by TF1 to create the first international version of brand new entertainment format Big Bounce Battle.
Originally created by Endemol Shine Netherlands, Big Bounce Battle was co-developed with Endemol Shine Germany for RTL, who signed up for a second series of the show in April following its launch in January. The competition sees contestants race the clock, and gravity, as they try to conquer spectacular trampoline obstacle courses as fast as they possibly can.
The French series will utilise the same set and studios as Big Bounce Battle Germany and is set to go into production later this year, with TX details to be announced.
The deal means that all three of Endemol Shine Group's that were showcased at MIPCOM including All Together Now and Family Food Fight, are all returning and travelling. All Together Now has launched in 8 markets within 6 months of its debut with Endemol Shine Australia's Family Food Fight been commissioned by ABC in the US.
Lisa Perrin, Endemol Shine Group's CEO of Creative Networks says; "We're only halfway through the year and to have all of our new formats returning and travelling is an incredible achievement of which we're hugely proud. TF1 is the ideal home for Big Bounce Battle in France and the fact that its being produced in the same studios as RTL's version demonstrates what an adaptable format it is and how easily it can be supercharged."
Big Bounce Battle is the ultimate physical game show. The trampoline tracks become more difficult as the series progresses, testing speed, strength, balance and timing, meaning contestants will literally face the ups and the downs on the fun- packed tracks, all the way to the final, where the fastest bouncer will claim victory and take home the huge cash prize.
Endemol Shine Group creates world-class content for all platforms including global hits Black Mirror, Big Brother, Deal or No Deal, Humans, Hunted, MasterChef, Peaky Blinders, The Island, The Brain, Tin Star and Your Face Sounds Familiar.
Last year Endemol Shine Group produced more than 800 productions, in 78 territories airing on more than 275 channels around the world.