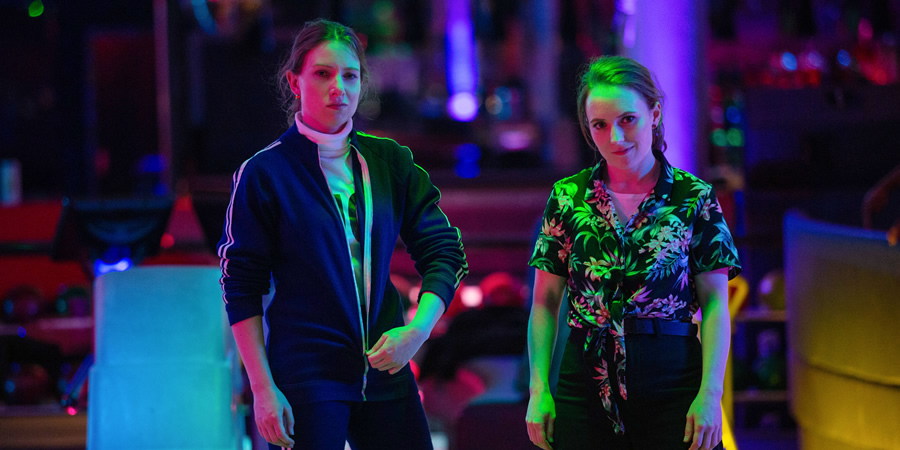 Tiger Aspect's 'Lazy Susan' commissioned to series
25/03/2020
BBC Three have today announced that Tiger Aspect's Lazy Susan has been commissioned for a four-part series.
Lazy Susan, from comedy duo Freya Parker and Celeste Dring, will be bursting back onto screens after their wonderful debut last year. Expect more of their razor-sharp yet fully idiotic comedy, where recognisable characters rub up against dark observation. Surreal moments will be punctuated by astute insights into what it means to be a woman in 2020; parties, pressure, contouring and, of course, fear!
There'll be more from some of the best loved characters from the short, including Megan and Michaela, who still just 'don't want any drama tonight', and many all-new creations of relatable, smart and surprising sketches.
Sharply written and full of joy, Lazy Susan will be an even bigger platform to house moments of variety, ambitious originality and above all hilarity, all brought together by Freya and Celeste playing versions of themselves in a friendship we're invited to join.
Freya and Celeste say: "We are so grateful to the BBC for letting us stage our radical re-imagining of Hamlet on Ice."
Amy Annette and Katie Churchill, producers for Tiger Aspect, say: "We were so thrilled by the reaction to the short from comedy fans, comedians and commenters online. So it's our great joy to be bringing more of Freya and Celeste's idiotic genius to BBC Three."
Damian Kavanagh, Managing Director for Tiger Aspect, says: "We were so pleased to be a part of Freya and Celeste's first TV commission as Lazy Susan, and to now work with them to bring this Lazy Susan sketch show to series on BBC Three. Tiger Aspect has built a reputation of being a home for brilliant talent to find their TV feet, and of working with that talent throughout their career – we can't wait to be making shows with Freya and Celeste for years to come."
Lazy Susan (4×15') is a Tiger Aspect (part of Endemol Shine UK) production for BBC Three. The executive producer is Damian Kavanagh, and the producers are Amy Anette and Katie Churchill. The commissioning editor for the BBC is Alex Moody. Lazy Susan was commissioned by Shane Allen, Controller of BBC Comedy commissioning and Fiona Campbell, Controller of BBC Three.
Critical acclaim for Lazy Susan
The I, Jeff Robson: "None of the skits outstayed their welcome; all shared the same off-kilter logic."
The I, Sarah Carson: "It's a mix that appeals to different funny bones, the pleasingly odd to the laugh-out-loud obvious, with layers that build depth impressively in a short space of time."